Inslee Announces Bold Climate Package for 2021–2023 Biennium
Date posted
December 15, 2020

For your general information, on Tuesday, December 15 Governor Jay Inslee announced a bold Climate Package as part of his 2021-23 budget proposal, building toward the expected rollout of his full proposed budget later this week. He was joined by Rep. Joe Fitzgibbon (D-34) and Mark Riker, Executive Secretary of the WA State Building and Construction Trades Council, Kent Hartwig, Director of Corporate Affairs of Renewable Energy Group, Sen. Reuven Carlyle (D-36), Sen. Rebecca Saldaña (D-37) and Leonard Forsman, Suquamish Tribe Chairman.
Rep. Fitzgibbon discussed the clean fuel standard. He stated that the greatest emissions sector in Washington State is the transportation sector which constitutes 40 to 45% of Washington State emissions. He went on to say that the powerful tool in British Columbia and Oregon is clean fuel standard reduces carbon output over time.
His package of proposed policies and budget items covers sectors from buildings to transportation. The policies are aimed at limiting greenhouse gas emissions in accordance with a state law passed in 2020 that sets goals for reductions each decade through 2050. The Governor stated that he is proposing legislation in the 2021 session to eliminate fossil fuels from new residential and commercial constructions for space and water heating by 2030 and eliminating the fossil fuels from existing buildings by 2050.
To view his press conference click on this link.
---
Please see the below press release for further information.
Inslee Announces Bold Climate Package For 2021–2023 Biennium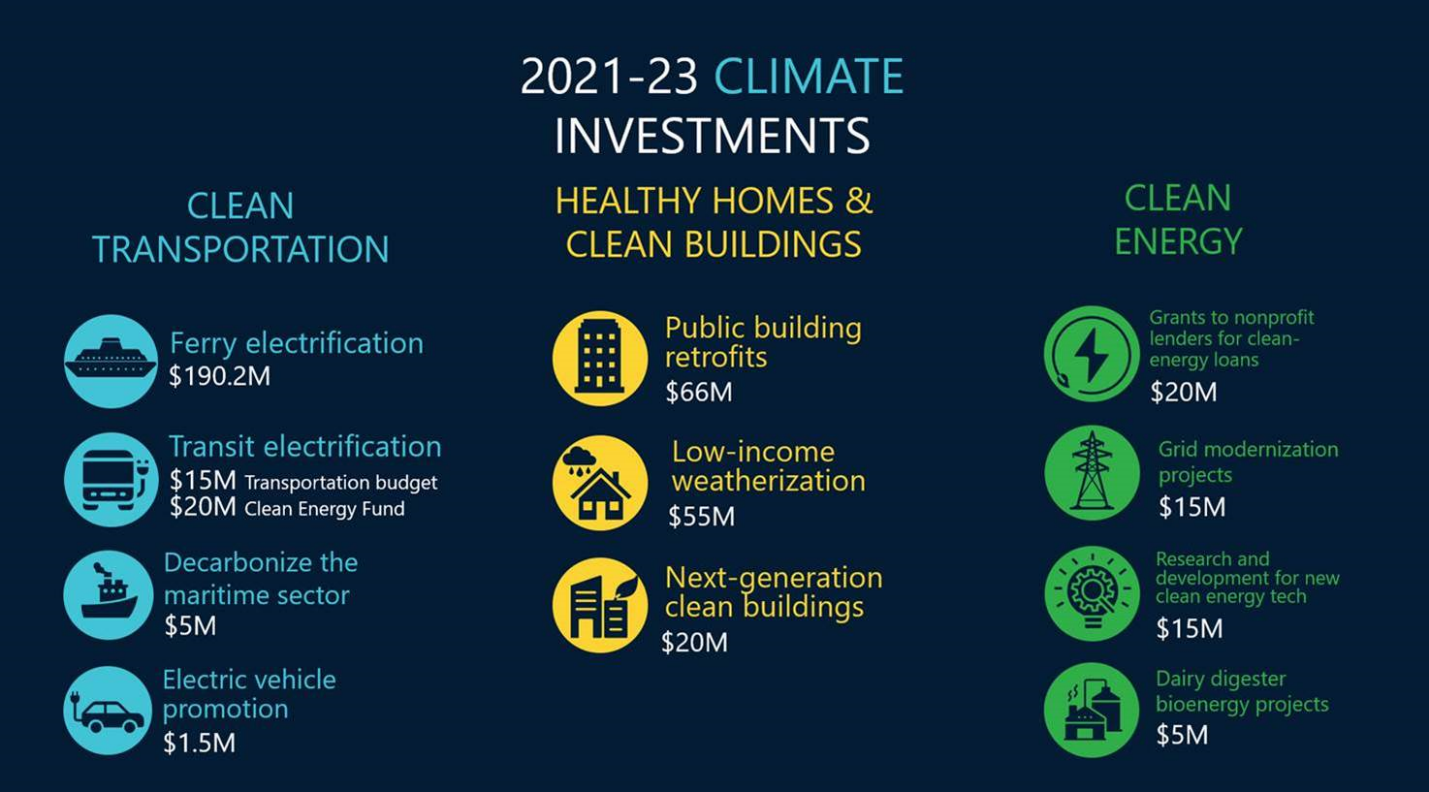 Gov. Jay Inslee today outlined his climate policy package for the 2021–2023 biennium.
"Climate change is a health issue, an economic issue and an equity issue. We must address these very real threats to our state, and we cannot wait," Inslee said at a press conference Tuesday. "The time to act is now. These proposals would reduce nearly 30 million metric tons of emissions by 2030?—?a 35% reduction from current projections. And these standards and investments?—?with justice at their core?—?will grow clean energy jobs in Washington."
Inslee's legislative and budget proposals would create a comprehensive climate program to ensure the state meets its climate goals:
Cap statewide greenhouse gas emissions and invest in clean energy, transportation and climate resilience programs, and fund part of the Working Families Tax Credit.

Establish a clean fuel standard and reduce transportation emissions through electrification.

Require new buildings to be carbon free by 2030 and eliminate fossil fuels from existing buildings by 2050.

Require an environmental justice assessment for all climate related investments and create an Environmental Justice and Equity Advisory Panel to analyze how climate investments impact communities most affected by climate change.

Invest $428 million in clean transportation, clean buildings and clean energy projects.
Read the rest of the story on the governor's Medium page.
Read the full climate policy brief here.