Secretary of State Kim Wyman to Join Federal Election Security Office
Date posted
October 27, 2021
Dear MHCW Members,
For your general information, Secretary of State Kim Wyman will be joining the Federal Election Security Office. She has been appointed to the Cybersecurity and Infrastructure Security Agency (CISA) as their Senior Election Security Lead.
She was first elected as the Washington State Secretary in 2012 and has served in the position for nine years. She is the only statewide elected Republican for Washington State. Her last day as the Washington Sectary of State will be November 19, 2021.
Governor Jay Inslee will look to appoint a replacement for the new Washington Secretary of State in the coming weeks.
Kim has been of friend of many of us to include professional associations that Chester Baldwin, MHCW Executive Director, represented and we are sad to see her go – but we wish her great success in her new role in the Biden Administration.
To see the CISA official announcement click here.
For additional information, please notice the Press Release from the Governor and Kim's statement below.

October 26, 2021
Public and constituent inquiries | 360.902.4111
Press inquiries | 360.902.4136
Inslee statement on Wyman decision to join federal election security office
Gov. Jay Inslee released a statement today on Secretary of State Kim Wyman's decision to lead the Department of Homeland Security's efforts to protect future elections from foreign and domestic interference.
"I spoke to Kim earlier today and congratulated her on her appointment. She has remained independent in the face of partisan challenges and has always done what was best for the strength of our democracy.
"I remember watching Kim certify the 2020 election results last December on the floor of the state Senate. When confronted with the choice of adopting election lies being promulgated by powerful forces in her party, Kim chose to stand by the will of the people. We are a stronger state because of Kim's endeavors.
"She is a great fit to lead these crucial efforts at the national level and I have no doubt that her expertise, energy and focus will lead to more secure elections and help restore faith in the democratic process.
"I will appoint her replacement in the coming weeks, and I believe that regardless of who it is, they will continue the vital work that Kim and her staff have put in place."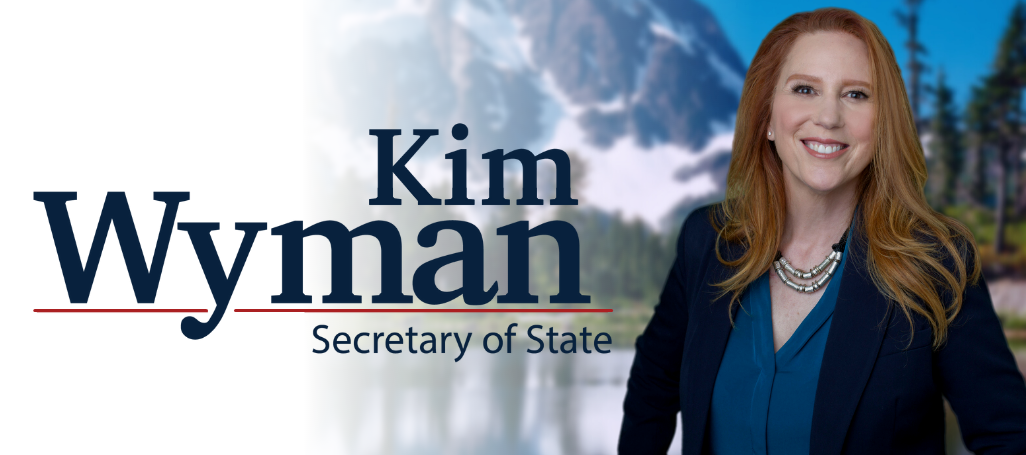 Dear Chester,

Just over 30 years ago my husband, John, and I moved to Washington to serve our country. He answered the call of duty by serving as a U.S. Army Ranger in the 2nd Ranger Battalion at Fort Lewis. This relocation, and your support of my campaigns through the years, gave me the opportunity to serve as Thurston County Election Director, County Auditor, and Secretary of State. I have been truly blessed to do this important work.

This morning, I was invited by Director Jen Easterly to help secure and protect our nation's election system by joining the Cybersecurity and Infrastructure Security Agency (CISA) as their Senior Election Security Lead.

I have accepted the position.

This means I will be stepping down as Secretary of State on November 19, 2021, and Governor Inslee will be charged with appointing my replacement.

The most difficult part of serving in this role will be stepping down as Washington Secretary of State before the completion of my term. We have been able to accomplish so much in nearly nine years and there is still so much work to complete. However, the threats to our country's elections system continue each day and they must be met with a combined effort by IT and cybersecurity experts alongside election professionals at the local, state, and federal level.

As the CISA Senior Election Security Lead, I will use my decades of state and local election administration experience to improve information sharing with our federal partners. Working with a team of some of the brightest cybersecurity professionals in the country, we will identify and interpret the diverse business needs of elections officials to create strategies to defend our nation's election system.

The goal is clear: we must protect and defend the Constitutional pillar of our republic – elections. We will collaborate with federal agencies, state and local election officials, and private industry leaders to continue addressing the threats and security challenges facing election officials.

I am leaving office with a heavy heart, as I love this job and appreciate all you have done to help me succeed as Secretary of State. The opportunity to serve our country as a guardian of our election system and to be part of an agency that is the tip of the spear defending our country is a high honor. Thank you for your support throughout the years and helping prepare me for this role.

Kim